SPIRIT MOUND TRUST
P.O. BOX 603
VERMILLION SD 57069
EMAIL:

The Prairie Today
One of the Trust's primary responsibilities is to work with the South Dakota Parks & Recreation Division to develop a highly diversified prairie. This ideal prairie will resemble that seen by Lewis and Clark in 1804. The original seeding on the site included 10 grass species and 53 forbs, the ideal prairie will be much more diversified.

There are many challenges. We must encourage the remnants of the original prairie to proliferate, halt the growth of invasive species and introduce additional native species at appropriate sites. As the Trust's sign panel on the kiosk reads:
a "prairie primeval may be impossible, but that goal will always be the projects partnership's goal."
Spirit Mound was beautiful during the summer of 2006. The number of native plants increased. With each passing year the prairie should become more spectacular. The Trust received a National Park Service Challenge Grant to hire a prairie restoration specialist to design a new management plan for 2007 and the future. This plan will include a vision for the restored ecosystem and its parts: native plants, invertebrates and vertebrates. Most of the plants will be the species seen by Native American occupants of the landscape at the time of the Lewis and Clark expedition. We have hired William Whitney of Prairie Plains Resource Institute in Aurora Nebraska to prepare the plan.
New Sign
(click image for larger view)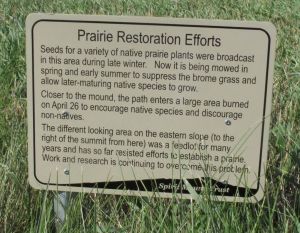 Taking Inventory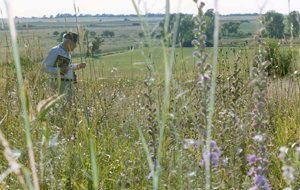 Monarch Banding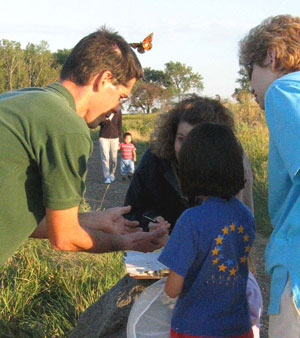 Prairie Flowers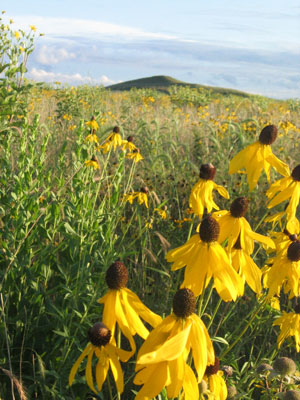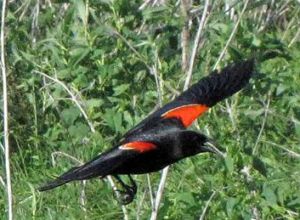 Red-winged Blackbirds are one of the most abundant birds in the state. They can seemingly be found in just about every marsh or weedy ditch in the state during the summer. The colorful males can often be seen perched on high perches, singing their song and defending their territory.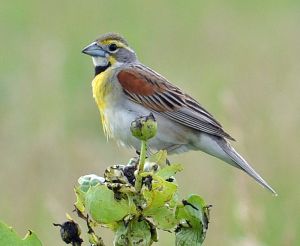 Dickcissels are a vocal summer resident in the state, especially in the eastern part, where they can often be found singing their djjk-djjk-djjk-cissel song from fenceposts, wires, and plant tops.