On the Trail Today...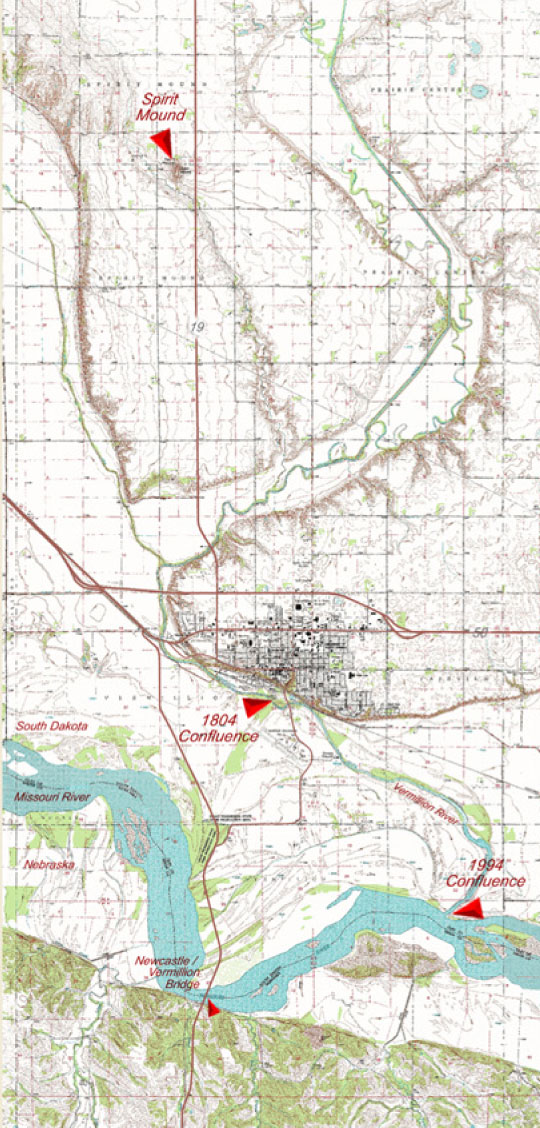 On August 25, 1804 the Missouri River joined the Vermillion River where the southern edge of the city of Vermillion is now located. Their trail to Spirit Mound passed right through the center of today's Vermillion. They made a nine mile trek to that one lone hill. It was famed among midwestern Native Americans tribes as the abode of the 'little spirits". Their curiosity started the history for what Spirit Mound is today. Click the links at left for information about the Lewis and Clark Expedition and the Legend of Spirit Mound.
Recently the 320-acre Spirit Mound site, formerly a cattle feedlot, was purchased, cleared, and seeded with prairie species. The intent is to restore it as much as possible to the conditions that Lewis and Clark saw approximately 200 years ago.
Spirit Mound is now a State Park and visitor appreciation of the site is enhanced with a parking lot, restroom, interpretive signs, and a trailhead at the southeast corner of the property. A walking trail leads from there to the summit.
To travel the approximate course of Lewis & Clark in 1804, start at Cotton Park in Vermillion, take Dakota Street north, then Main Street west to Stanford Street / Hwy 19 and continue on it six miles to Spirit Mound.
Spirit Mound Location Map from South Dakota State Parks
Spirit Mound Trails Map and Guide from South Dakota State Parks
(Both downloads require a Adobe Acrobat Reader)